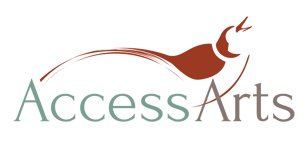 Registration for all weekly classes opens one month before the class begins and closes one week prior to each session start date. We recommend you sign up early to avoid classes being canceled due to low enrollment. Find more info about session dates here.
Each class meets for 2 hours each week for up to 6 weeks. Additional open studio time is available to students enrolled in a 6-week class.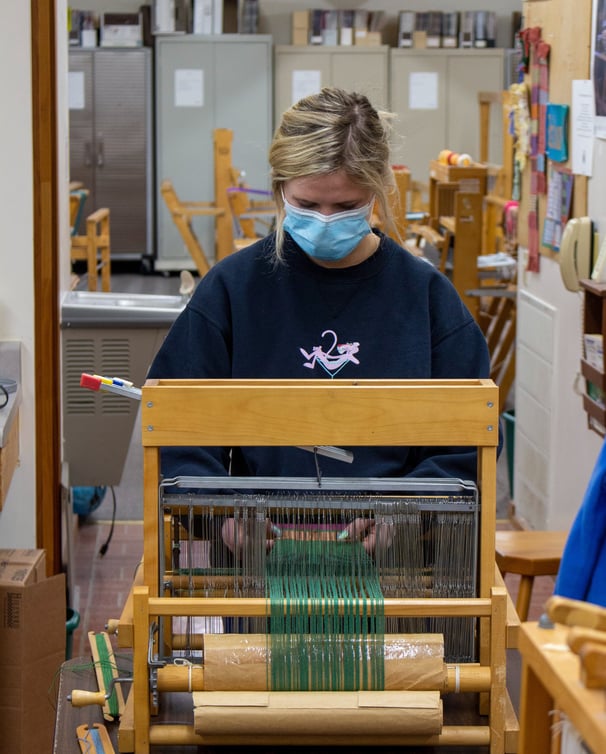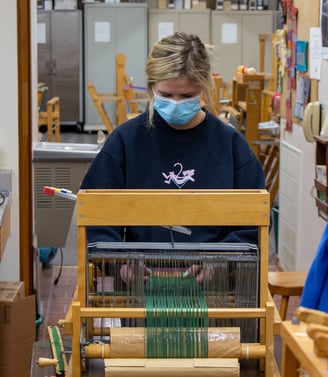 Fibers Open Studio Hours
​Saturdays: 3 PM - 5 PM
Instructors are not available for assistance during these times. *We do NOT hold open studio hours during session breaks (you can find these here).
Want a brief walkthrough of how to register for our classes? Click here!
​It should be noted that current students have first dibs on the following class session in order to stay on their looms. Due to this system, we do not always have available spots in our classes. We apologize for the inconvenience, but we also encourage potential students to sign-up for our topics classes or join the waitlist to be notified of openings.
It is with a heavy heart that we are halting all adult fibers classes for right now. Unfortunately, we will not host any fiber classes in the January 2024 class session. The hope and goal is for classes to return in the spring, and we look forward to sharing more as soon as we can.
We are so grateful for all of our students' continued support, particularly through the last few years as the world went through a global pandemic and Access Arts (and the fibers department in particular) made many necessary changes to keep up. We believe that what makes Access Arts great is the excellent instruction and creative experiences we can provide, and we don't want to offer fiber classes until we can provide instruction that is nothing short of excellence.
CANCELATION POLICY
When inclement weather occurs, class cancelations will be decided by the instructor of the class. If WE cancel any 6-week classes due to weather or COVID-19, they will be made up at a later date. If class is not canceled, but a student feels unsafe traveling, they can stay home, but NO make-up class will be provided. We encourage you to make up any lost time during open studio hours and ask about any material missed during the following class.
Your instructor will contact you if class is canceled. Please make sure they have your correct contact information. If you have any questions about our cancelation policy, please don't hesitate to email us at​ accessarts@schoolofservice.org ​or call us at 573-875-0275.
SCHOLARSHIPS
We frequently offer a limited amount of free and half-price spots for low-income families or individuals who are interested in any of our programs! If you want to apply for consideration when spots become available, find more information on how to apply here!​​
Interested in taking a class at a discounted rate in exchange for service hours? Click here for more info.
REFUND POLICY
If you cancel at least three full weeks before the start of the program, you will receive a full refund minus the non-refundable fee of $30. If you would rather, you may be able to switch to a different available class or program. No refunds or credits are given within three weeks before the start of the program. If WE cancel due to COVID-19, a full refund will be given, or you can save the payment for a later program.