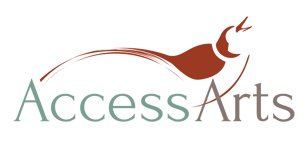 Our mission of making creative learning experiences accessible extends to the cost of our programming. We try our best to keep prices low but also strive to offer plenty of full and half scholarship spots in our programs. Our scholarship spots are offered on a continuous, rotating basis. For those eligible, scholarships are awarded first come, first served, as there are a limited amount of scholarships available each class session, depending on available funds.
Currently, we only offer scholarships for our 6-week classes and youth camp programming. Our scholarships are funded by grants and the community. All extra donations included in registrations for our programs go toward the scholarship fund.
Please reference the chart included to see if you would qualify via your household size and yearly income, but please note we approve scholarships on a case-by-case basis, and can approve individuals beyond the range of this graph. The information in this chart is based on the 2023 Poverty Guidelines of the Continental United States provided by the Office of the Assistant Secretary for Planning and Evaluation. Please rest assured that any information you give us in your application process will remain confidential.
It should be noted that only 2 individuals from each household can obtain scholarships at one time. If you wish to receive multiple scholarships throughout the year, you must reapply for each new session or camp you are interested in attending. Though applications are accepted on a rolling basis, there is a low chance of approval for applications that give us less than a month's notice (should apply at least one month before the program starts).
Scholarship applications are accepted on a rolling basis. Listed below are the general application periods for each program that accepts scholarships:
January Class Session: Taking applications November 1 - 20
March Class Session: Taking applications January 1 - 20
May Class Session: Taking applications March 1 - 20
July Class Session: Taking applications May 1 - 20
September Class Session: Taking applications July 1 - 20
November Class Session: Taking applications September 1 - 20
Summer Camp: Taking applications January 1 - March 31
Spring Break: Taking applications September 1 - January 30
Full Scholarship Eligibility
Half Scholarship Eligibility
FAQ
What expenses are covered by scholarships?
Scholarships are applied to the cost of the class which includes all instruction, materials, and equipment.
How much scholarship support may I receive?
Students may apply for half or full scholarships for one or multiple programs. Individuals are allowed to receive a maximum of one scholarship per session.
What do I owe Access Arts in return for my scholarship?
Scholarship recipients do not owe Access Arts anything, except promptness and good conduct while participating in our programs. There is no debt to Access Arts and no work exchange requirement. However, we welcome students to give back to Access Arts by participating in our volunteer opportunities!
Why am I stuck on the wait list?
Some programs give registration priority to students who are paying the full tuition amount. In those cases, the scholarship applicant will be placed on the wait list and then contacted two weeks prior to the workshop if there are still spaces available. The best way to ensure enrollment in these classes is to pay the full tuition amount. All programs have a minimum enrollment number that must be met with students who are paying the full amount before scholarship recipients are allowed to register.
Do I have to provide financial records in order to receive a scholarship?
No, however, applicants must provide their annual household income. Access Arts considers annual household income and household size to determine the applicant's eligibility for a scholarship award.
Are you offering Summer Camp scholarships?
Yes! In 2023, we are offering 12 Summer Camp scholarships across all ages, on a first-come, first-served basis. For our High School camps, please consider checking out our High School Internship program here.
How may I contribute to Access Arts' Scholarship Funds?
Support Access Arts students by making a donation towards our scholarship fund. Contributing to our scholarship fund ensures that students of all socio-economic backgrounds are eligible to participate in Access Arts' educational programs
What programs do not take scholarships?
Currently we are not taking scholarships for any workshops or Date Nights.
​Interested in taking a class at a discounted rate in exchange for service hours? Click here for more info.
The Naoma Powell Scholarship Fund
Naoma Powell was the Executive Director of Access Arts for over 30 years and is considered the mother of Access Arts just as our founder Hurst John is the father of School of Service. Naoma was such a huge pillar in the arts community and spent most of her life helping the mentally and physically disabled and the financially disadvantaged find their inner creativity through art.
She was committed to never turning someone away from Access Arts because they couldn't pay.
In the last 50 years, Access Arts has grown a lot, however, we remain committed to carrying on Naoma's legacy, by always trying to make these creative learning experiences accessible to EVERYONE. We provide a multitude of scholarship spots each session but would love to do more while continuing to grow in quantity and quality. Please consider donating to the Naoma Powell scholarship fund, to make it possible for more individuals to experience how art and creativity can change their lives.
Upon registration for any of our programs, you may be prompted to add a small donation. All of the donations collected at registration go directly to this scholarship fund. As always, thank you for supporting and furthering this mission with us.