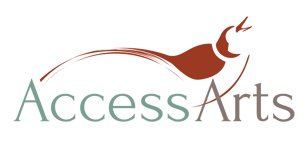 Being able to weave a colorful fabric has been Nancy's main fascination in the world of weaving since May 2021. She had the idea that weaving was perfect for being creative and doing some exercise. But she was half wrong, she has been able to create unique fabrics, learn complex weaving structures, developed patience, and found a relaxing hobby where her mind can be distracted from the focus of work. Every week the class is a thrill for her, where she enjoys her new passion, meets beautiful people who share the same excitement for weaving, and has the opportunity to appreciate the diversity of fabrics made by her peers on the interesting looms at Access Arts. She also enjoys its library focused on weaving.
"The Access Arts weaving studio is a relaxing space to develop a new hobby that can teach you patience through design and warping. This is a long and sometimes challenging process, but once you start to see that your fabric is coming out you are not able to stop until it is complete. This process quickly becomes addictive."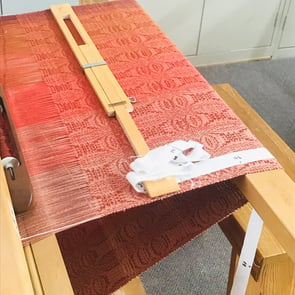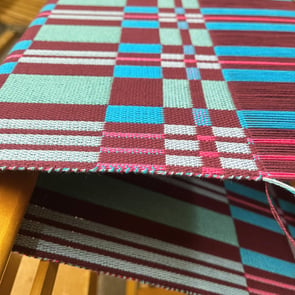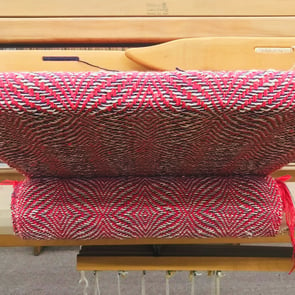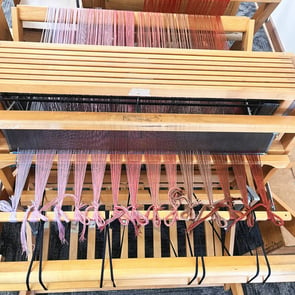 Merrilee first joined Access Arts as a child in 1985 in a hand-building class with Naoma Powell. On the last day of class, the students got to throw a pot using the wheel, and Merrilee was covered in clay but loved it. Fast forward to 1997 and she signed up for clay throwing classes for the following 5 years. After another break, she returned with her son and niece in Jan 2022. "I couldn't remember any of the terminology but when I started throwing, it all came back." To Merrilee, there is nothing more peaceful than the moment you have a well-centered bowl.
"It may only be a moment, but it's addictive. Each stage of the process has its own challenges and it's a very rewarding process. And if it isn't good, then you can just smash it and start over. I've learned different skills from all the teachers I've had over the years. And each class I try a new challenge. Access Arts is a great place - it is fun meeting new people and running into old friends in classes."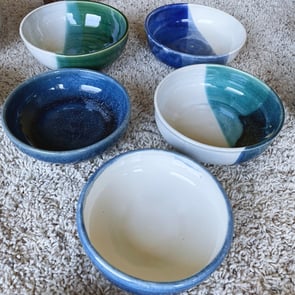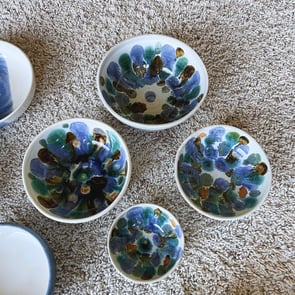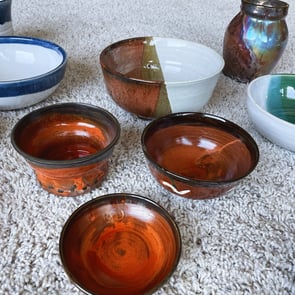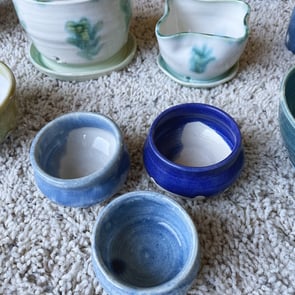 Emily first took a pottery class in January of 2021 and has been throwing on the wheel ever since. Working with clay was something she was always interested in, but decided to dedicate herself to pottery after volunteering at Access Arts as part of a college class. It was then that Emily became inspired by the work of other students and decided to take her first class. "My favorite thing about pottery is how experimental it is - every pot is a new learning experience! I especially love wood firing and raku firing pots because the glaze results are so unpredictable. I can't recommend pottery enough! It requires a lot of practice and patience, but it's a great creative and social outlet."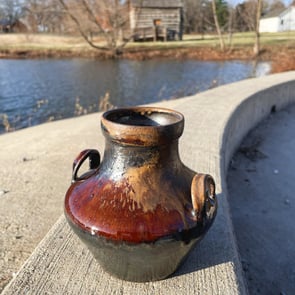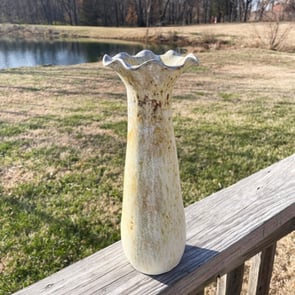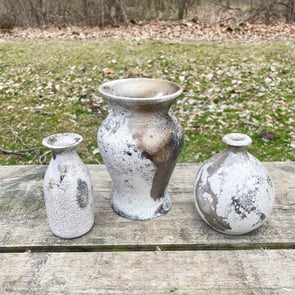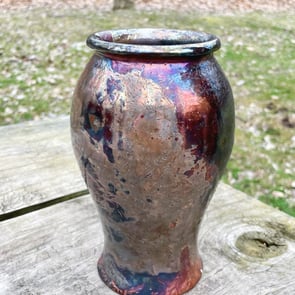 Andie first discovered Access Arts at the beginning of 2020, as a part of their New Year's Resolution to do more things that scared them. Our ceramics classes were a part of that resolution! Andie's been taking classes at Access Arts since then, and now encourages others to also push themselves to try something new, many times suggesting Access Arts in particular. Throughout their time here Andie has learned "that few things in life are simply as inherent as I once believed. Pottery is a practice. It's also a metaphor. Every time I sit down at the wheel, I have to still myself. I have to plan, collaborate, and yes... even learn to let go." Andie continues to come back, session after session, and continues to get better and better at their craft!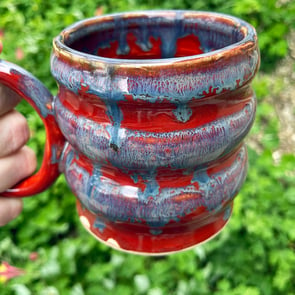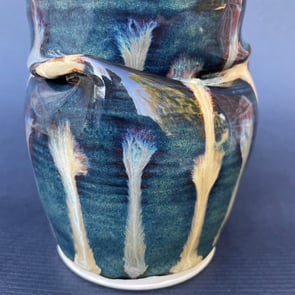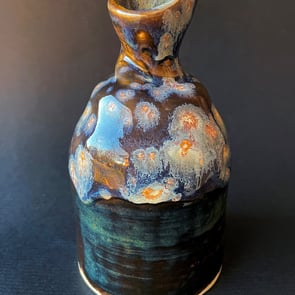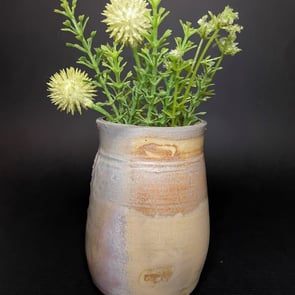 Susan has been a part of our classes for over 20 years and has really embodied our mission of providing creative learning experiences to everyone. One great example of this would be when she borrowed a loom from Access Arts when she went to visit her daughter in Colorado. Her daughter had been teaching a group of kids to do hand weaves and wanted to show her class what a real loom was like. She has recently finished the project you see here. Susan started by weaving the cloth on an 8-shaft loom at Access Arts and then using the cloth to sew a vest. "For me, it was an exploration in weaving pattern design as well as the challenge of sewing my handwoven fabric."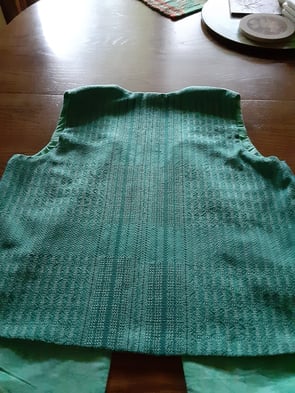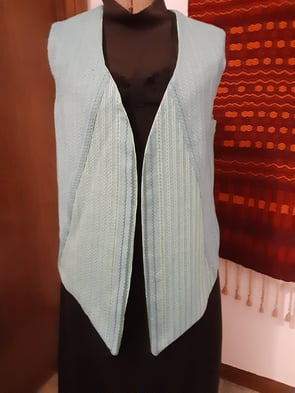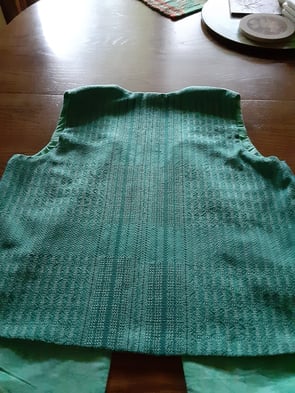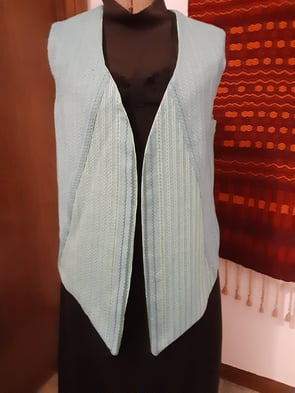 Marsha began taking pottery classes at Access Arts in the year 2000, with Naoma Powell as her first instructor. Beyond learning the basics of ceramics, Marsha also learned how to take care of a pottery studio, and how to enjoy playing with clay. Now she has her own pottery wheel at home but continues to bring her work to Access Arts for firing. She also really enjoys experimenting with glazes at home and plays with the coloring of her pieces. Marsha doesn't identify as a production potter but holds true to herself that "throwing on the wheel is the best feeling, besides making something functional that someone can use and enjoy."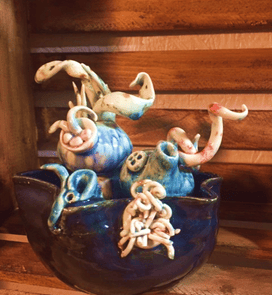 Rachel first moved to Columbia in May of 2017 to work at the University of Missouri after finishing grad school. She began taking ceramics classes at Access Arts in August of that same year and has been ever since. In the beginning, she was frustrated with not understanding or being able to execute parts of the process, but once it clicked, she became addicted. "My love for pottery is continuously renewed with still so much to learn," Rachel explains. She credits Access Arts with providing a unique, supportive community, and fostering an open environment for students. Her advice: "If anyone is ever hesitant about taking a class through Access Arts, just do it! It may change your life. And don't be afraid to try something new. It's always a daunting task to go from centering 1 lb of clay to 5 lb to even 10! But once you do it, you'll be hooked with all the newfound abilities."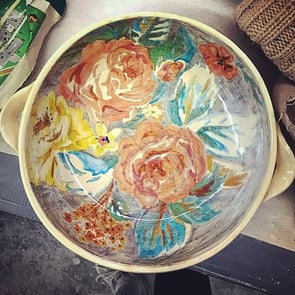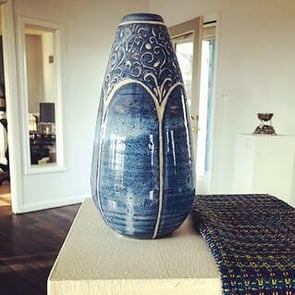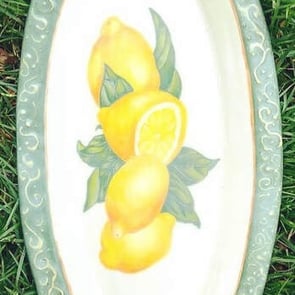 Steven has been part of the Access Arts family for many years now. Steven has had many hurdles in life, as he is on the Autism spectrum and has been diagnosed Schizophrenic. Starting small, he kept coming back and now hosts webinars to share his work with others and volunteers in the ceramics studio. Hear his moving story in his mother's own words.
Michelle has been taking weaving classes with Access Arts for quite a long time. She has quite an eye for color and is always such a positive spirit when it comes to encouraging and helping other students in the classroom. Michelle likes to sell her work at crafts fairs and enjoys making woven presents for family and friends.