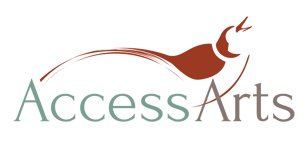 Residency Frequently Asked Questions
HOW MUCH DOES IT COST TO APPLY?
There is no cost to apply to our Artist-in-Residence program.
CAN I SELL MY WORK DURING THE RESIDENCY?
Yes! We encourage it!
WHEN WILL I HEAR BACK ABOUT MY APPLICATION?
We like to respond to applicants within a week of submission. If you haven't heard anything by then, feel free to send a follow-up email.
WHO WILL BE REVIEWING MY APPLICATION?
​Our Executive and Assistant Director will be reviewing all of the applications, together with the Studio Manager(s) working in that medium.
I HAVE A PART-TIME JOB CAN I STILL BE A RESIDENT ARTIST?
Yes. Resident artists often have part-time jobs to support their studio practice. Artists are best able to balance the two when their "day job" has a flexible schedule. Ultimately, you want to make sure your schedule supports you in getting the most out of the residency.
WHAT IS EXPECTED OF ME WHILE I'M AT THE RESIDENCY?
Our program is open-ended and lets residents make their own studio hours, with 24-hour access to a studio space, but there are specific times for teaching classes that you will need to be available for. We also expect you to pursue your own art-making goals and help build community amongst students and staff.
WHAT IS THE STUDIO SIZE?
Studios are shared by residents and staff. Each clay resident is given a section (approximately 10 x 10) of their own (furnished with a table and potter's wheel), as well as communal space.
ARE MATERIALS PROVIDED?
Some materials and tools are included as part of the residency as outlined in the description for each medium. Materials used to directly benefit Access Arts, such as donated work, will be provided. Any additional materials needed must be provided by the artist.
IF I HAVE APPLIED BEFORE CAN I APPLY AGAIN THIS YEAR?
Yes, you certainly can! If you had applied previously, you should submit a full application again.
IF I HAVE A DISABILITY, HOW WILL THE RESIDENCY PROGRAM ACCOMMODATE ME?
We will gladly discuss your specific needs to see if our space is a good fit and/or how we can make it so.
WHAT OPPORTUNITIES ARE THERE TO SHOW/SELL WORK IN COLUMBIA?
There are several venues that support local art sales. Columbia Art League, Sager Reeves Gallery, and Blue Stem are just a few. All one-year residents are invited to receive a solo show at Access Arts at the end of their residency.
WHAT ARE THE USUAL RESIDENCY DATES?
Varies. We ask that residents to commit to a year-long residency. However, there are also instances in which we offer residents the possibility of extension past the first year!
HOW MANY SERVICE HOURS ARE EXPECTED OF ME?
For off-site residents, 35 service hours per month is expected (averages to 8.75 hours per week). For live-in residents, it is 60 service hours per month (averages to 15 hours per week).
DO YOU HAVE ANY 2D EQUIPMENT RELATED TO PRINTMAKING OR PAPERMAKING?
Yes! Our printmaking studio is located in the front half of the fibers studio, and it includes the basic setup for screenprinting, a small tabletop press for relief, and letterpress printing. We have a lot of other 2D materials available that are primarily used for our youth programs.
CAN I BRING A SPOUSE/PARTNER
/COLLABORATOR?
For live-in residencies, no. Due to our insurance liability, only residents are allowed to live on-site.
WHAT RESTAURANTS ARE AROUND THAT AREA/WITHIN WALKING DISTANCE?
Within 0.8 miles, being about a 15 minute walk, there is Mclanks LLC, Tiger's Takeout, Arch & Column Pub, Hardee's, Curries, Tiger Club, Scooter's Coffee, and Starbucks Coffee. Within 1.5 miles, being a 25 minute walk, there are 50+ more restaurants to choose from, with downtown being only a mile away.
WHAT DO I NEED TO BRING?
Housing is fully furnished, but residents should provide their own bedding and linen. Transportation and meals are not provided and it is strongly encouraged for residents to provide their own transportation as public transport options are limited. I.E. Vehicle, bicycle, scooter, etc...
ARE THERE WASHERS/DRYERS IN THE HOUSES?
Yes, there's one washer/dryer setup for all residents to use, but you are responsible for buying your own detergent.
ARE MEALS PROVIDED?
No. Residents are responsible for their own meals, but the closest grocery store is 0.6 miles away (Clovers Natural Market), and others are 0.8 miles away. There is a shared kitchen space.
DO YOU HAVE WIFI?
WiFi is included but residents should provide their own devices.
HOW CLOSE IS THE NEAREST BUS STOP?
The nearest bus stop is about a half mile away from Access Arts. Find the bus routes here.
WHAT CLASS SIZES CAN I EXPECT?
Most clay and 2D classes range from 12 students to 15. Our fibers classes usually range from six to eight students.