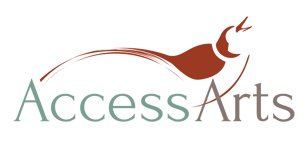 Our ARTastic Elementary Summer Camp is a week-long, day camp program for school-age children (must have gone through kindergarten AND be at least 5 years of age). Throughout the day, they will complete a range of projects in a variety of art media including ceramics, printmaking, and weaving. Camp days are from 8 a.m. to 5 p.m. each day.
All of our camps are fully inclusive. However, our 2 adaptive weeks are specially designed for students who would benefit from a half-day structure. Adaptive weeks are also designed for students to receive specialized support from one of our Special Education aides throughout the morning.
If your child has adaptive needs but will attend a week that isn't designated as adaptive, please contact us to help create the ideal environment for your child. Please email our Assistant Director, Lisa Franko at: youthprograms@schoolofservice.org or call our office at 573.875.0275.
12 fully-funded scholarships will be available for Summer Camp students across all ages. Each of the 12 scholarships covers the full enrollment fee for one week-long camp of your choosing. Only one scholarship will be awarded per child, but multiple scholarships may be awarded to a household with more than one child who wishes to attend. Scholarships are based on financial need and are awarded on a first-come, first-served basis. We are taking applications from January 1st to March 31st. Our current scholarship application can be found here.
This camp is best suited for students in Kindergarten-5th grade. Check out our new camp offerings for Middle & High School students here! And for a second year, we will also be inviting High School students to join us in the classroom as Summer Camp interns! More information can be found here.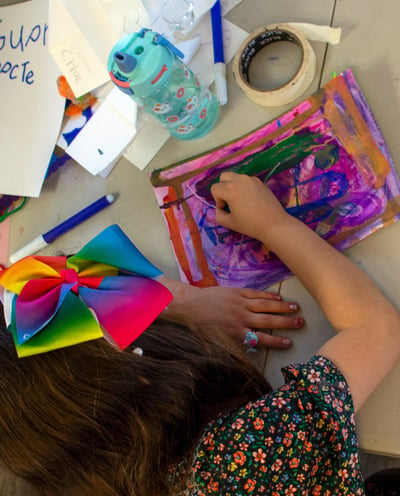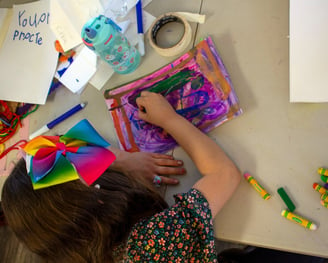 2024 schedule will be posted in March of 2024!
Pricing
Summer Camp Full Week: $300
Adaptive Half-Day Week: $150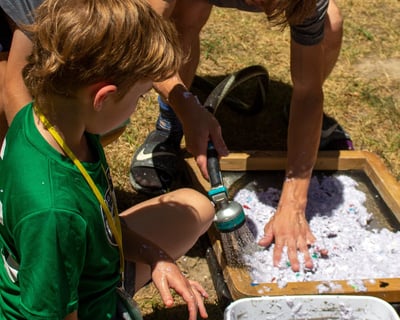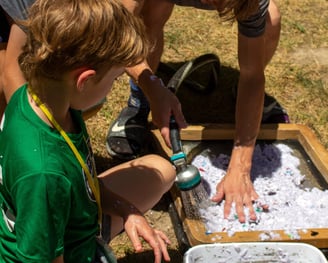 What to Bring
Campers will need to bring a packed lunch that does not need heating or cooling, two snacks, and a bottle of water. They will need to wear shoes they can play in and comfortable clothes that can get messy!
​Location & Contact
1724 McAlester Street, Columbia, MO 65201
youthprograms@schoolofservice.org or (573) 875-0275
Assistant Director: Lisa Franko
Half-day Adaptive Camps
Our half-day adaptive camps are designed exclusively for students with special needs that benefit from a shorter camp day. These camps run in an inclusive environment from 8-noon and a classroom aid will be present!
​Checking In & Out
Morning check-in and roll call will occur every day between 7:45 and 8:15 a.m. Please be prompt! Bring your child to the front entrance of the location you were emailed where you will be greeted by a designated staff member who will check them in. Every child must be signed in and out every day by a staff member. Parents will not be allowed into the building, to minimize person-to-person contact and ensure the safety of all students.
​Dismissal will be between 4:45 and 5 p.m. every day. Please remain outside and knock on the door. A staff member will bring your child out to you.​ Any child not picked up by 5:15 will be charged an extra $5 for every 15 minutes they remain.
SCHOLARSHIPS
We frequently offer a limited amount of free and half-price spots for low-income families or individuals who are interested in any of our programs! If you want to apply for consideration when spots become available, find more information on how to apply here!​​
REFUND POLICY
If you cancel at least three full weeks before the start of the program, you will receive a full refund minus the non-refundable fee of $30. If you would rather, you may be able to switch to a different available class or program. No refunds or credits are given within three weeks before the start of the program. If WE cancel due to COVID-19, a full refund will be given, or you can save the payment for a later program.
CANCELATION POLICY
When inclement weather occurs, cancelations will be decided the night before the scheduled camp date. Parents will be contacted via email if the camp is canceled due to inclement weather or COVID-19. If the program is not canceled, but a student feels unsafe traveling, they can stay home, but NO make-up class will be provided. Please contact us if you fall into this category, and are interested in a credit for a future class.
If you have any questions about our cancelation policy, please don't hesitate to email us at​ accessarts@schoolofservice.org ​or call us at 573-875-0275.