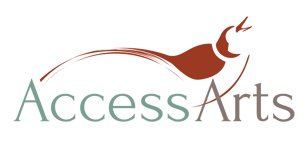 For one evening only, bring your partner, a friend, or someone you would love to get creative with for a night of fun and adventure at Access Arts! We will provide an educational and creative space for you to learn a new skill in clay, fibers, or printmaking. No prior experience is needed in any of these mediums, just a smile and willingness to get a little messy! BYOB & snacks if desired!
**Please note our clay projects will be experience-focused, and we can not guarantee that you will be able to create the piece of your dreams! AFTER the Date Night, if you make something ceramic at this event you want to keep, you can get it glazed and fired for $15, otherwise, please don't anticipate leaving with a project! You can purchase this option on the night of the event.
*Unfortunately, each Date Night will NOT run if we have less than four couples confirmed.
CANCELATION POLICY
When inclement weather occurs, class cancelations will be decided by the instructor of the class. If WE cancel any 6-week classes due to weather or COVID-19, they will be made up at a later date. If class is not canceled, but a student feels unsafe traveling, they can stay home, but NO make-up class will be provided.
Your instructor will contact you if class is canceled via email. If you have any questions about our cancelation policy, please don't hesitate to email us at​ accessarts@schoolofservice.org ​or call us at 573-875-0275.
REFUND POLICY
If you cancel at least three full weeks before the start of the program, you will receive a full refund minus the non-refundable fee of $30. If you would rather, you may be able to switch to a different available class or program. No refunds or credits are given within three weeks before the start of the program. If WE cancel due to COVID-19, a full refund will be given, or you can save the payment for a later program.